This post is also available in: Deutsch English Italiano
Flatbread from Tuscany
Schiacciata is a delicious Tuscan dish that is popular with locals and tourists alike. This traditional flat bread has a long history and is often served as an appetizer, side dish or as a tasty snack.
The name schiacciata comes from Italian and means "squashed" or "flattened," which perfectly describes the shape of the bread. Schiacciata has its roots in Tuscan cuisine and is closely linked to the region's farming tradition. It was originally baked as a simple bread to provide a nutritious meal for farmers and their families.
Its preparation is relatively simple and requires only a few ingredients. Here is the delicious recipe for schiacciata with step-by-step instructions:
A spicy and crispy flatbread from beautiful Tuscany!
Ingredients list
500

g

pastry flour

(UK: soft / patent)

300

ml

water

lukewarm

45

g

olive oil extra virgin

8

g

fresh yeast

5

g

sugar

10

g

salt

coarse sea salt

to taste
Equipment
Directions
First, pour the lukewarm water into a container, crumble in the fresh yeast and dissolve completely.

300 ml water,

8 g fresh yeast

Place the flour and sugar in the bowl of the stand mixer. Fit the machine with the beater hook and run on speed 1.

500 g pastry flour,

5 g sugar

Now pour in the yeast water little by little. Then add the olive oil and continue to knead.

45 g olive oil extra virgin

Once the dough has reached a nice smooth and firm consistency, add the salt and knead for another 5 minutes.

Then place the dough in a lightly oiled bowl and cover with a tea towel. Then let it rise in a warm place for at least 4 hours. Stretch and fold the dough every hour during the rising time.

Grease a baking tray and place the dough on it. Now flatten the dough with your fingertips and pull it apart until it is spread over the entire surface. To prevent the dough from sticking to your fingers, it helps to rub them with a little olive oil.

Now cover the dough with foil and let it rest for another hour.

Then remove the foil and work small depressions into the dough with your fingertips. Again, grease the fingers with a little olive oil.

Now drizzle everything with olive oil and spread the coarse sea salt over the entire surface of the dough.

Put the tray in the static oven preheated to 250°C/480°F on the lowest rack and bake for 10 minutes. Then switch to the middle rack and bake for about 15 minutes until golden brown. Remove from the oven, let cool briefly and enjoy immediately.

Buon appetito!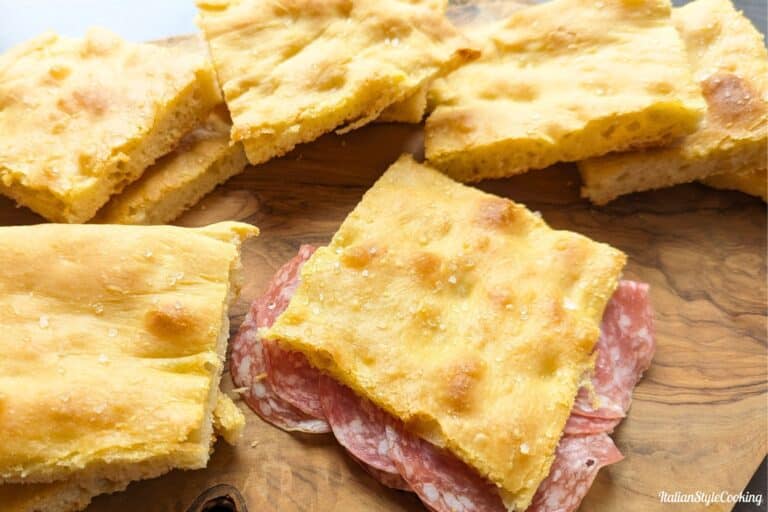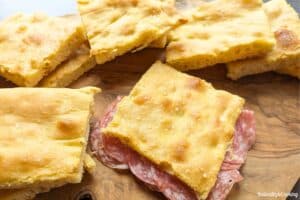 Tip
Du kannst die Schiacciata als Beilage zu Fisch & Fleisch reichen, aber auch leckere Sandwiches daraus zaubern.
Calories:
561
kcal
(28%)
Carbohydrates:
97
g
(32%)
Protein:
13
g
(26%)
Fat:
13
g
(20%)
Saturated fatty acids:
2
g
(10%)
Polyunsaturated fatty acids:
2
g
Monounsaturated fatty acids:
8
g
Similar recipes to Schiacciata
ItalianStyleCooking Shopping Tip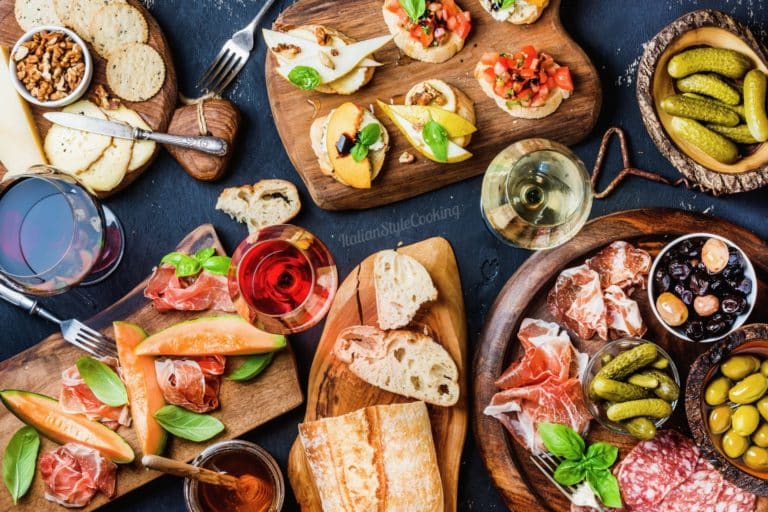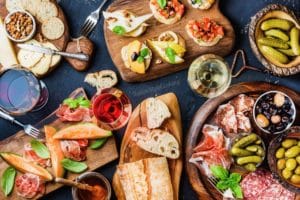 If you are a big fan of Italy and are looking for original Italian goods, Made in Italy from Amazon is the right place for you. Browse to your heart's content for food, furniture and home accessories, clothing and cosmetics products made by Italian craftsmen and manufacturers. In each product you will find the peculiarities of Italian production.