This post is also available in: Deutsch English Italiano
As delicious as in Italy
Cappelletti are a type of pasta traditionally served with a filling of meat, cheese and vegetables. They are basically a smaller version of tortellini, but have a slightly different shape and are usually a bit thicker. The filling can vary depending on the recipe, but typically includes pork, veal and Parmesan cheese, but sometimes includes ingredients like spinach and mushrooms.
Preparing it requires some time and patience, but the result is definitely worth it. There are several steps in making them, including preparing the dough, filling and making the dumplings. If you take the time to prepare them properly, you will be rewarded with a delicious tasting dish.
Overall, cappelletti are a delicious and versatile pasta that you should definitely try. Below we will show you how to prepare this delicious pasta at home to serve a traditional Italian dish to your family and friends.
Delicious filled pasta pockets!
Ingredients list
Pasta dough
400

g

all purpose flour

(wheat flour)

4

eggs

medium size
Filling
150

g

ground pork

100

g

ground veal

100

g

chicken breast

50

g

parmesan cheese

grated

30

g

olive oil extra virgin

50

g

onion

50

g

celery

50

g

carrots

50

ml

red wine

1

egg

salt

to taste

pepper

to taste

nutmeg

to taste
Equipment
Directions
Pasta dough
First, put the flour in a large bowl, lightly beat the eggs and add to the flour. Then knead thoroughly with your hands until a smooth, homogeneous dough is formed. Then wrap it in plastic wrap and let it rest at room temperature for half an hour.

400 g all purpose flour,

4 eggs
Filling
In the meantime, finely dice the celery, onion and carrots. Pour the olive oil into a large pot and sauté the diced vegetables for about 10 minutes over medium heat. Stir several times during this process.

30 g olive oil extra virgin,

50 g onion,

50 g celery,

50 g carrots

Meanwhile, finely dice the chicken breast. Once the vegetables are steamed, add the diced chicken breast and the ground meat and sauté for about 5 minutes.

150 g ground pork,

100 g chicken breast,

100 g ground veal

Then deglaze with the red wine, season with salt and pepper and simmer for another 5 minutes until the liquid has evaporated.

Now put everything in a stand mixer and puree to a fine mixture. Then transfer to a bowl and add the lightly beaten egg and grated parmesan cheese. Season with a little nutmeg, salt and pepper and mix thoroughly.

50 g parmesan cheese,

1 egg
Making cappelletti
After the resting phase, roll out the dough on a smooth surface about 2-3mm/0.1in thin. Then, using a ravioli cutter or a roller, cut out square sheets of dough with 5cm/2in sides.

Now always put a teaspoon of the filling in the center of the squares. Then fold each dough square diagonally to form a triangle. Press the two open sides together by applying light pressure between thumb and forefinger to close them. Now carefully pull the two corners of the long side towards each other and join them together with light pressure. This creates the typical hat shape.

Then place each shaped cappelletti on a tray on which is a clean tea towel lightly sprinkled with semolina.

Now cook the stuffed pasta for about 2 to 3 minutes in boiling salted water. As soon as they rise to the surface, immediately skim with a slotted spoon and serve as desired.

Buon appetito!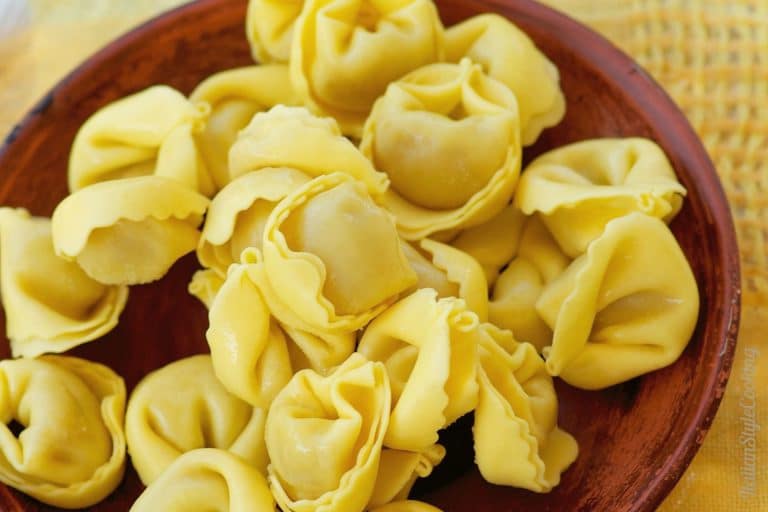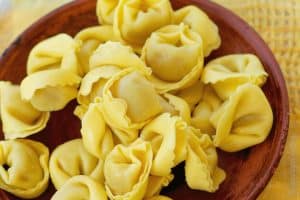 Calories:
739
kcal
(37%)
Carbohydrates:
76
g
(25%)
Protein:
34
g
(68%)
Fat:
31
g
(48%)
Saturated fatty acids:
10
g
(50%)
Polyunsaturated fatty acids:
4
g
Monounsaturated fatty acids:
14
g
Trans fatty acids:
0.3
g
Cholesterol:
258
mg
(86%)
Did you like the cappelletti? Here are some more nice recipes for you…
Our pasta book recommendation