This post is also available in: Deutsch English Italiano
An icon of the cucina italiana!
Tagliatelle al ragù is a delicious and traditional Italian pasta specialty that delights pasta lovers all over the world. The combination of wide pasta and hearty meat sauce makes this dish a real treat.
The history of tagliatelle al ragù goes far back in time. The dish is believed to have originated in the Emilia-Romagna region of northern Italy. The combination of wide pasta and meat sauce has been popular there for centuries. There are several theories about the exact origin story, but one of the most popular legends says that tagliatelle al ragù was invented in the 18th century by a creative chef named Zefirano to satisfy the appetite of the Duke of Parma. Since then, the dish has spread throughout Italy and become a culinary icon.
By using quality ingredients, a little of your precious time and attention to detail in cooking, you can have an authentic tagliatelle al ragù experience in your own home. Try this delicious recipe right now and enjoy the flavors of Italian cuisine in all its glory!
So incredibly delicious like in Italy!
Equipment
Directions
Peel the celery, carrots and onions and cut them into small pieces.

Heat the olive oil in a high pan or pot and add the chopped vegetables. Saute everything over low heat for 10 minutes, stirring occasionally. Now add the ground pork and beef and also brown slowly for about 10 minutes, stirring constantly.

Once all the meat juices have boiled away, deglaze with the white wine and allow to reduce briefly. Then add the strained tomatoes, a pinch of salt and a third of the water. Stir well and cook over medium heat for an hour.

After the first hour, add the second third of the water, stir and simmer for another hour. At the end of the second hour, add the last third of the water and cook on low heat for another hour. Then add some salt and pepper, as well as the milk. Stir well and put everything aside.

Bring a pot of water to a boil and cook the tagliatelle al dente according to package directions. Then drain and return the pasta to the pot. Add the ragù and mix everything well.

Arrange the tagliatelle al ragù on deep plates and sprinkle with grated parmesan to taste.

Buon appetito!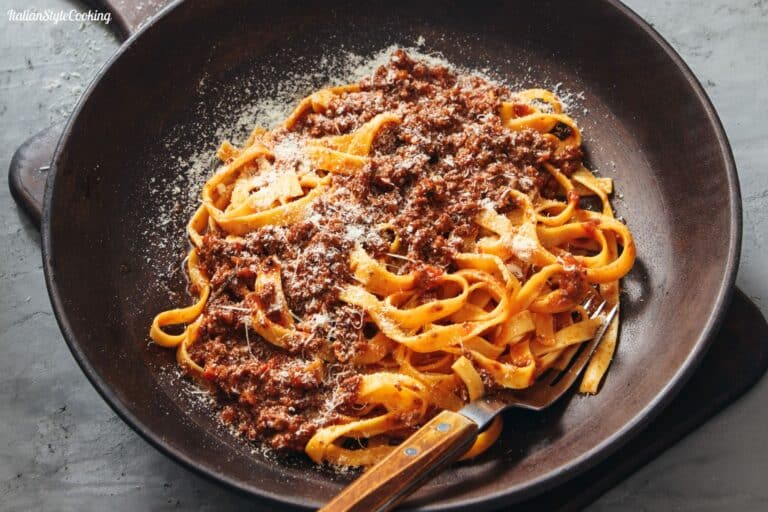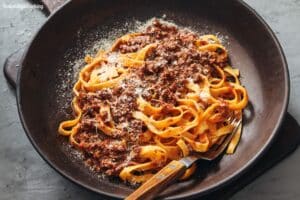 Calories:
143
kcal
(7%)
Carbohydrates:
20.8
g
(7%)
Protein:
6.2
g
(12%)
Fat:
3.5
g
(5%)
If you liked the tagliatelle al ragù alla bolognese, you may also like these delicious dishes….
ItalianStyleCooking Shopping Tip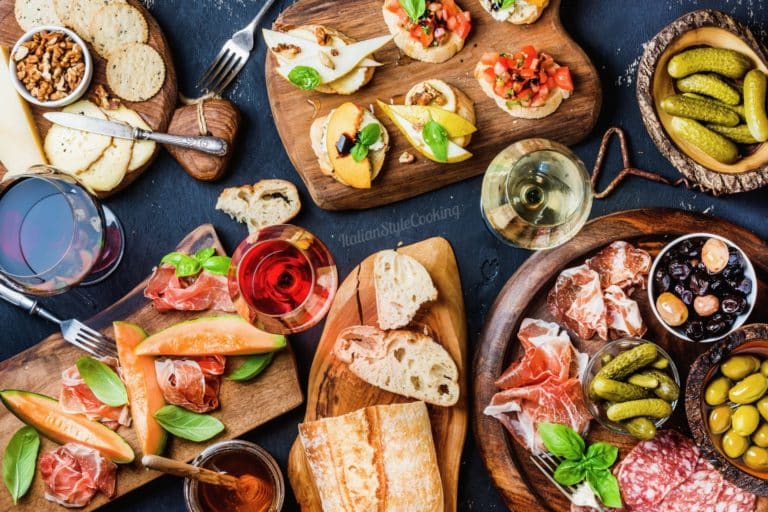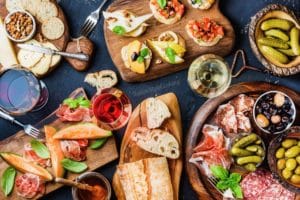 If you are a big fan of Italy and are looking for original Italian goods, Made in Italy from Amazon is the right place for you. Browse to your heart's content for food, furniture and home accessories, clothing and cosmetics products made by Italian craftsmen and manufacturers. In each product you will find the peculiarities of Italian production.
Our pasta book recommendation