This post is also available in: Deutsch English
Today we're making a super yummy vegetarian casserole together that you can serve to your kids and yes… even your "meat adoring" husband. They will devour it, I promise 😉 With the delicious melted mozzarella-parmesan mix and delicious tomato sauce, everyone's mouth is guaranteed to water just looking at it…. Now then… let's cook a heavenly zucchini parmigiana!
A super delicious casserole with fruity tomato sauce and fried zucchini!
Directions
Heat some olive oil in a deep frying pan. Peel the onion, chop finely and sauté lightly in the olive oil. Then deglaze with the strained tomatoes. Season with salt and pepper and simmer for about 40 minutes, stirring occasionally.

700 g strained tomatoes,

1 onion,

olive oil extra virgin,

salt,

pepper

Meanwhile, wash the zucchini and remove the ends. With the vegetable slicer cut about 5mm/⅕in thick oblong slices from it.

Heat sunflower oil in a large frying pan until the oil thermometer indicates approx. 170°C/340°F. Now deep-fry a few zucchini slices at a time in the hot oil until they turn a light brown color. Then briefly drain on a large plate with kitchen paper.

Drain the mozzarella and finely dice. Once the tomato sauce has simmered long enough, take some basil, chop finely, add and mix. Now spread some of the sauce evenly on the bottom of the casserole dish.

250 g mozzarella cheese,

basil

Now lay out the fried zucchini slices in the casserole dish widthwise close together over the entire surface, creating a first layer. This is now generously covered with tomato sauce and sprinkled with ⅓ of the parmesan. Add a little more pepper and sprinkle with about ⅓ of the mozzarella cubes.

Now we repeat this process two more times, so that we get a total of three layers.

With a tiny difference in the second layer: Here we now place the zucchini slices lengthwise in the mold. This gives the casserole more stability!

Finally, put the parmigiana in the oven for about 25 to 30 minutes at 200°C/400°F top/bottom heat. Before serving, let it rest briefly and garnish with a few beautiful leaves of basil.

Buon appetito!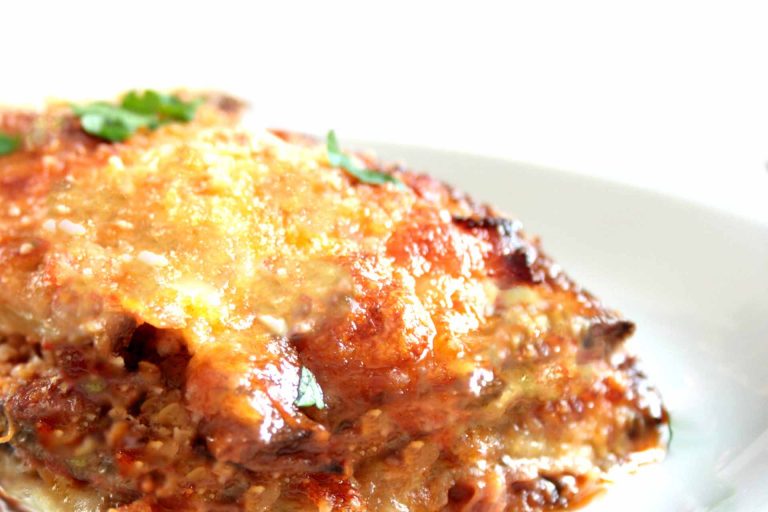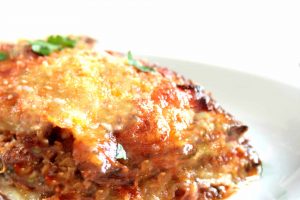 Calories:
71
kcal
(4%)
Carbohydrates:
4.2
g
(1%)
Protein:
4.6
g
(9%)
Fat:
3.9
g
(6%)
Did you like the zucchini parmigiana? Here are a few more delicious dishes…
Looking for original Italian ingredients for zucchini parmigiana?
ItalianStyleCooking Shopping Tip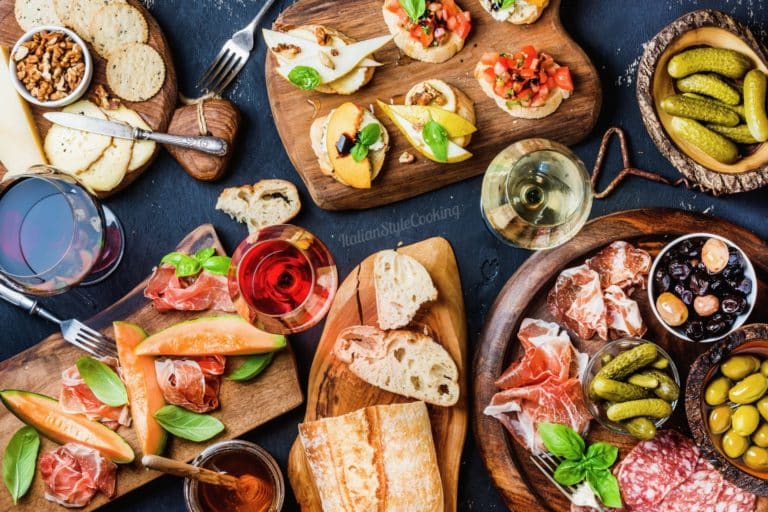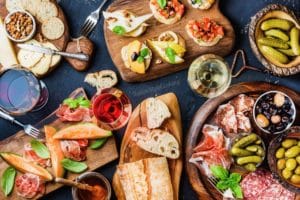 If you are a big fan of Italy and are looking for original Italian goods, Made in Italy from Amazon is the right place for you. Browse to your heart's content for food, furniture and home accessories, clothing and cosmetics products made by Italian craftsmen and manufacturers. In each product you will find the peculiarities of Italian production.