This post is also available in: Deutsch English Italiano
Antipasti di verdure – 4 antipasti classics
Today we want to prepare a homemade antipasti di verdure – a delicious appetizer platter that beautifully combines the flavors and variety of Mediterranean vegetables. This rich and colorful platter presents a selection of 4 popular classic Italian appetizers that will tempt any palate. From hearty and juicy Funghi trifolati, to sweet and sour Caponata, to flavorful Peperonata and delicious Zucchini alla griglia.
This combination of Mediterranean vegetable antipasti is perfect for social occasions, where it can be served either as a delicious prelude to a menu, or as a side dish at a cozy barbecue with friends and family. Of course, it is also perfect for a relaxed dinner for two, accompanied by a glass of red wine and fresh bread.
A delicious appetizer platter of various vegetables
Directions
Funghi trifolati
First, thoroughly clean the mushrooms and remove the earthy parts of the stems. Then cut the mushroom into bite-sized pieces.

Peel and halve the garlic. Wash the parsley, shake dry and chop finely.

Heat the butter together with the olive oil in a large frying pan. Add the garlic and sauté briefly.

30 g butter,

40 g olive oil extra virgin

Now add the mushrooms and sauté over high heat. Stir gently several times during this process.

Season with salt and pepper and add the chopped parsley.

Finally, remove the mushrooms from the heat and set aside.
Caponata
Clean and thinly slice the onion and celery. Halve the green olives.

75 g celery,

50 g onions,

30 g green olives

Wash and dry the eggplants and tomatoes and cut them into pieces of about 2.5cm/1in. Heat a pan and toast the pine nuts for a few minutes until golden brown.

200 g eggplants,

25 g vine tomatoes,

10 g pine nuts

Heat sunflower oil in a saucepan until hot. Add a few pieces of eggplant at a time and fry for a few minutes. Remove from the pan, drain well and set aside.

Then heat olive oil in a high pan. Add the onion and brown well. Add the celery and brown well as well. Now add the capers, olives, toasted pine nuts and tomato pieces and sauté briefly. Simmer over low heat for 15-20 minutes.

In the meantime, prepare the sweet and sour sauce:

In a small bowl add the white wine vinegar, tomato paste and sugar. Mix everything well and after 15-20 minutes add salt and add the sauce to the pan.

10 g white balsamic vinegar,

8 g tomato paste,

10 g sugar

Slightly increase the heat and stir constantly until the smell of vinegar is gone. Then turn off the flame and add the fried eggplant and plenty of basil and mix thoroughly.

Place the caponata in a baking dish and refrigerate to cool.
Zucchini alla griglia
Cut off both ends of the zucchini. Wash it, dry well and cut into slices.

Add the zucchini slices one by one to a hot grill pan and sear on both sides. Then remove and leave to cool.

Place the cooled zucchini slices in a large shallow bowl and arrange in a circle. Season each layer with salt and pepper to taste and drizzle with a little balsamic vinegar and olive oil.

Then place in the refrigerator for at least 2 hours to infuse. Before serving, remove in time for them to reach about room temperature.
Peperonata
First, wash and dry the bell peppers. Then cut into four elongated pieces and remove the core and white fibers. Then cut into oblong strips.

Peel and halve the onions and cut them into thin slices.

Heat some olive oil in a large frying pan. Add the whole peeled garlic cloves and sauté briefly. Add the onions and sauté over medium heat, stirring occasionally, until translucent for about 15 minutes.

Then add the pepper stripes and season with salt and pepper. Mix everything well and let it stew for another 15 minutes over medium heat with the lid closed.

Then remove the garlic cloves from the pan and pour the strained tomatoes into the pan. Stir briefly and simmer again for 15 minutes with the lid closed.

Put the peperonata in a bowl and garnish with chopped parsley.
Arrange antipasti
Now that all four appetizers are prepared they can either be served separately in bowls, or nicely arranged on a large serving platter.

Buon appetito!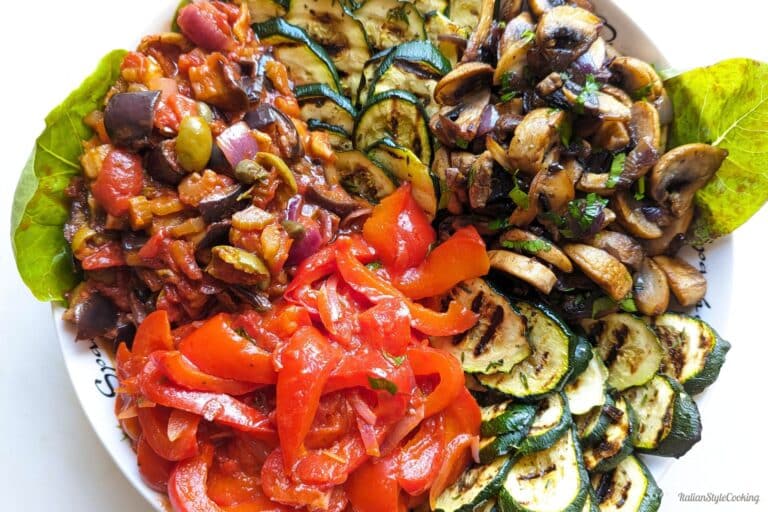 Tip
Since the preparation of all 4 dishes is somewhat more time-consuming, it is recommended to prepare them the day before and store them in an airtight container in the refrigerator.
Serving:
110
g
Calories:
258
kcal
(13%)
Carbohydrates:
18
g
(6%)
Protein:
5
g
(10%)
Fat:
20
g
(31%)
Saturated fatty acids:
6
g
(30%)
Polyunsaturated fatty acids:
3
g
Monounsaturated fatty acids:
11
g
Trans fatty acids:
0.2
g
Cholesterol:
16
mg
(5%)
Similar recipes to vegetable antipasto platter
ItalianStyleCooking Shopping Tip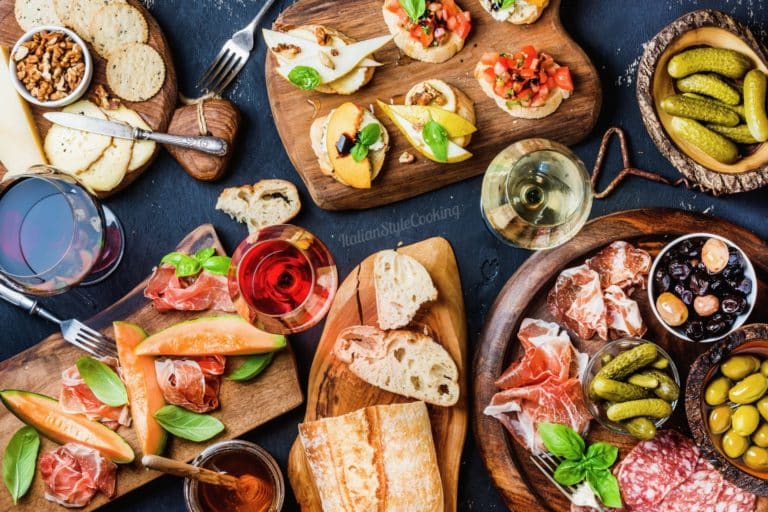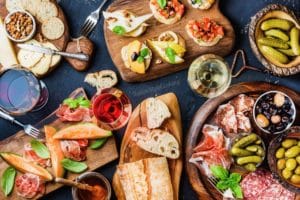 If you are a big fan of Italy and are looking for original Italian goods, Made in Italy from Amazon is the right place for you. Browse to your heart's content for food, furniture and home accessories, clothing and cosmetics products made by Italian craftsmen and manufacturers. In each product you will find the peculiarities of Italian production.