Sprache | Language | Lingua: Deutsch English Italiano
This page uses
affiliate links
marked with a icon.
As an Amazon Associate, we earn from qualifying purchases.
Melanzane a barchetta
Stuffed eggplants Campania style, known in Italy as "Melanzane a barchetta", are a delicious dish from the Campania region in southern Italy. This traditional dish consists of eggplants stuffed with a delicious mixture of tomatoes, capers, olives and garlic before being baked in the oven. The result is a wonderfully flavorful, juicy and hearty dish that can be enjoyed warm or, if the weather is very hot, it's great cold. It is a great way to turn the delicious vegetables into a delightful dish. The Stuffed eggplants are suitable both as an appetizer and as a side dish with fish and meat.
Do you feel like it? Great! Then let's get started right away…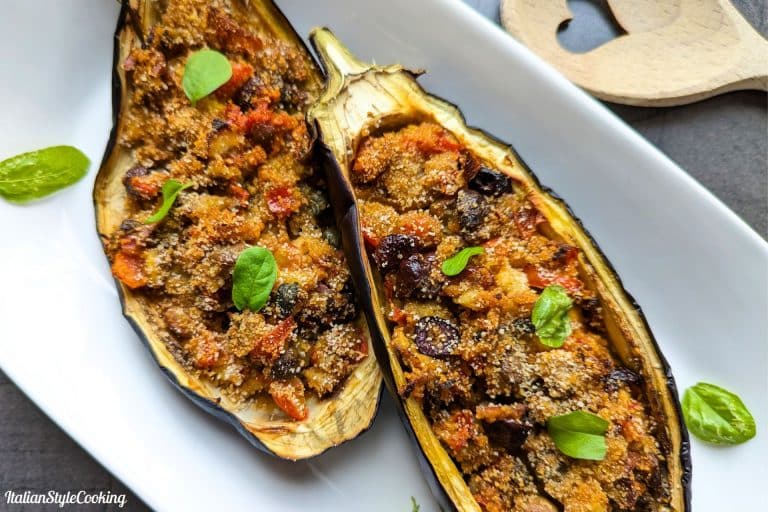 A delicious appetizer from the south of Italy
Directions
First preheat the oven to 150°C/300°F top/bottom heat.

Meanwhile, wash the eggplants thoroughly under cold running water and dry them. Then cut in half lengthwise and carefully scrape out the flesh. The skin of the eggplant should still have a thickness of about half a centimeter. Set the extracted flesh aside.

Now place the eggplants on a baking tray lined with baking paper, grease with a little olive oil and salt a little. Now put them in the preheated oven for 7 minutes. Then turn them over and bake for another 7 minutes. Then remove and let cool.

In the meantime, prepare the filling. To do this, cut the flesh of the eggplant into small pieces. Wash the cherry tomatoes and cut them into small pieces as well. Roughly chop the capers and olives.

200 g cherry tomatoes,

40 g capers,

50 g olives

Peel and finely chop the garlic. Then heat the olive oil in a frying pan and sweat the garlic in it. Now add the eggplant flesh and the tomato pieces and salt lightly. Sauté over high heat, stirring frequently, for about 5 minutes until the flesh of the eggplant is soft.

30 ml Olive oil extra virgin,

1 clove garlic

Then turn off the heat and add the olives and capers and let cool briefly. Then transfer to a bowl, add the breadcrumbs and mix everything thoroughly.

Now fill the mixture into the eggplants and press down lightly. Then place them again on a baking tray lined with baking paper and drizzle with a little olive oil.

Now place in the oven for about 20 minutes and bake at 180°C/360°F until golden brown. Finally, remove and garnish with fresh basil leaves.

The eggplants can now be served hot or cold as an appetizer or side dish.

Buon appetito!
Calories:
111
kcal
(6%)
Carbohydrates:
7
g
(2%)
Protein:
2
g
(4%)
Fat:
9
g
(14%)
Saturated fatty acids:
1
g
(5%)
Polyunsaturated fatty acids:
1
g
Monounsaturated fatty acids:
6
g
Did you like the recipe for stuffed eggplants? Here are some more delicious recipes for you…
ItalianStyleCooking Shopping Tip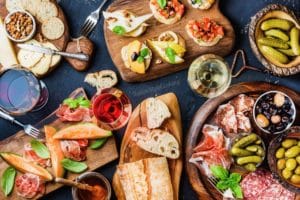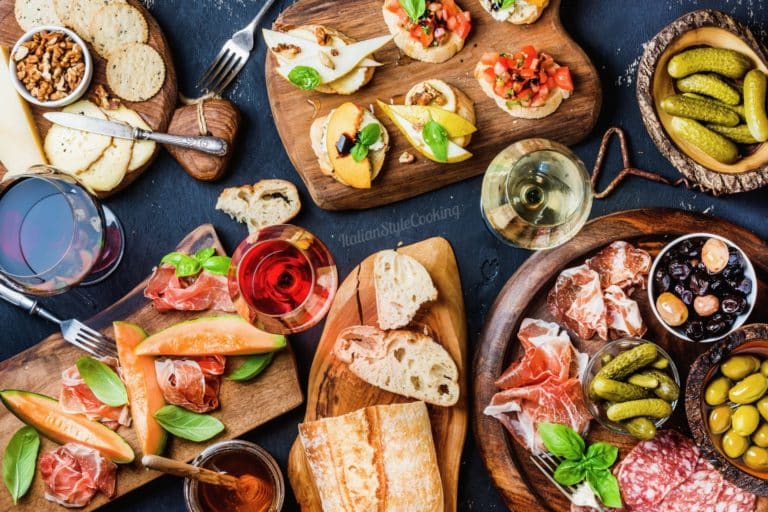 If you are a big fan of Italy and are looking for original Italian goods, Made in Italy from Amazon is the right place for you. Browse to your heart's content for food, furniture and home accessories, clothing and cosmetics products made by Italian craftsmen and manufacturers. In each product you will find the peculiarities of Italian production.