This post is also available in: English Deutsch Italiano
Involtini di pollo con spinaci
Today we want to bring to the table very simple and appetizing meat rolls. As a filling we use here only freshly blanched spinach leaves. Thus, we get a well digestible light dish. We can combine this with all kinds of side dishes such as risotto, mashed potatoes or salad to serve a delicious meal. Now, if you feel like trying the spinach chicken roll ups, let's get started right away….
Delicious roll ups of chicken stuffed with fresh spinach leaves
Directions
First, bring a pot of salted water to a boil and prepare a large bowl of ice water.

Cook the cleaned fresh spinach leaves in boiling salted water for a few seconds. Then transfer to the ice water to stop the cooking process. Now drain the blanched spinach into a colander and drain well. Squeeze with kitchen paper to remove the remaining water.

Beat the chicken breast slices with a meat tenderizer until evenly thin and season with salt and pepper. Now place a tablespoonful of spinach on each of the meat slices, carefully but tightly roll them up and fix them with a toothpick.

8 pieces chicken breast,

salt,

pepper

Heat some olive oil in a large frying pan and sear the roll ups briefly and vigorously on all sides.

Once the stuffed chicken roll ups are nicely browned, deglaze with the white wine and let it evaporate. Then reduce the heat and cook the roulades on low heat for about 10 minutes. If the liquid in the frying pan disappears during cooking, add a little hot water so that the meat does not become dry.

Finally, remove the finished roulades from the frying pan and serve immediately hot.

Buon appetito!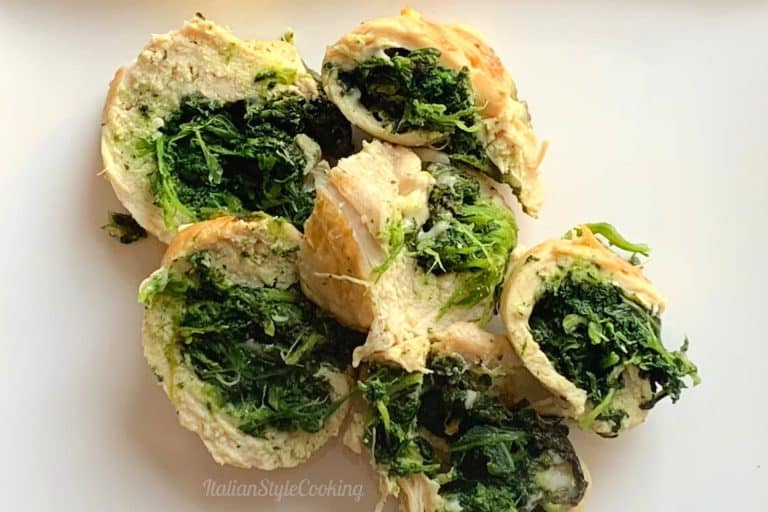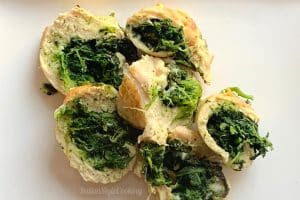 My tip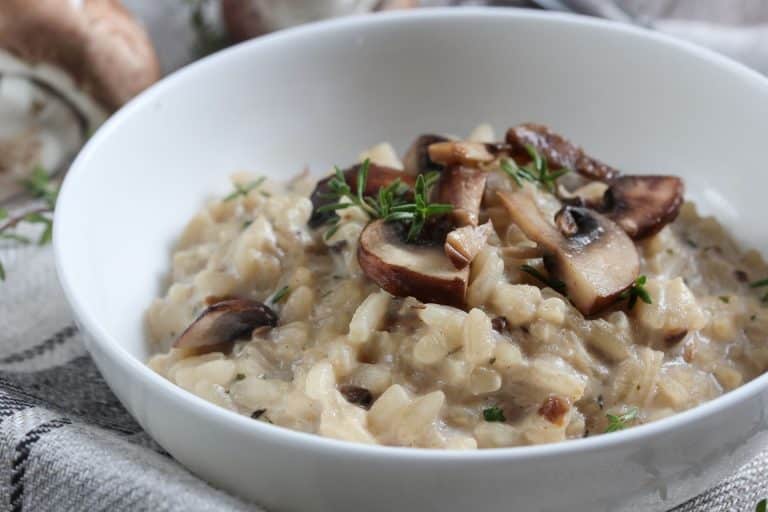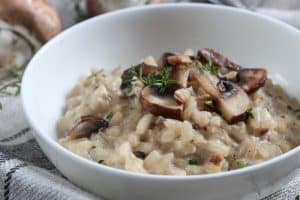 As a side dish
we recommend a fresh and delicious
mushroom risotto.
Calories:
57
kcal
(3%)
Carbohydrates:
6
g
(2%)
Protein:
5
g
(10%)
Fat:
1
g
(2%)
Saturated fatty acids:
0.1
g
(1%)
Polyunsaturated fatty acids:
0.1
g
Cholesterol:
0.04
mg
Did you like the spinach chicken roll ups? Here are some more nice dishes for you…
Don't you have all the ingredients for the spinach chicken roll ups at home?