This post is also available in: Deutsch English Italiano
Pasta al ragù bianco
Welcome to a delicious adventure in the world of pasta! Today we take you on a culinary journey and present you a tempting variation of a classic – Ragu bianco pasta. The bold sauce adds a delightful flavor to this dish that is sure to delight you.
You may be wondering what exactly white bolognese is and how it differs from the classic version. Well, white bolognese is a creative twist on the traditional Italian dish. Instead of the usual tomato sauce, this version uses a rich meat broth. The result is a tantalizing sauce with a delicate, yet rich flavor that pairs beautifully with spaghetti.
But now finally to the exciting part – the recipe for the pasta al ragù bianco:
A delicious variation on the classic Bolognese!
Ingredients list
400

g

spaghetti

350

g

ground beef

150

g

salsiccia (Italian sausage)

400

ml

meat broth

50

g

carrots

50

g

onions

50

g

celery

1

tbsp

cornstarch

300

ml

dry white wine

2

tbsp

olive oil extra virgin

1

sprig

rosemary

salt

to taste
Equipment
Directions
First peel the celery, carrots and onions and cut them into small pieces.

50 g carrots,

50 g onions,

50 g celery

Remove the skin from the salsiccia and chop coarsely.

150 g salsiccia (Italian sausage)

Heat the olive oil in a high pan or pot, add the chopped vegetables and sauté for a minute.

2 tbsp olive oil extra virgin

Then add the ground beef, salsiccia and cornstarch and brown over high heat for about 10 minutes, stirring constantly.

350 g ground beef,

1 tbsp cornstarch

Once all the meat juices have boiled away, deglaze with the white wine and allow to reduce briefly. Then pour in as much meat stock until the meat is covered. Add the rosemary sprig, stir everything well and simmer on low heat with the lid closed for 40 minutes.

400 ml meat broth,

300 ml dry white wine,

1 sprig rosemary

Then remove the lid and season with salt. Finally, remove the rosemary from the sauce, mix everything thoroughly and simmer for another 5 minutes.

Meanwhile, bring a large pot of generously salted water to a boil and cook the spaghetti al dente according to package directions.

Once they are ready, drain them in a colander and then add them directly to the white bolognese. Mix everything thoroughly, remove from heat and let rest for a minute.

Now put the spaghetti with white bolognese in deep plates in portions and serve immediately hot.

Buon appetito!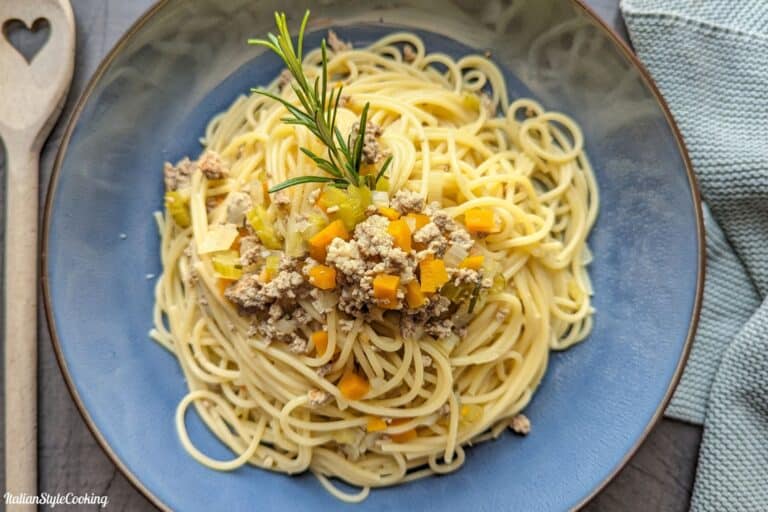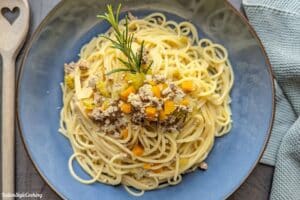 Calories:
431
kcal
(22%)
Carbohydrates:
5
g
(2%)
Protein:
23
g
(46%)
Fat:
29
g
(45%)
Saturated fatty acids:
10
g
(50%)
Polyunsaturated fatty acids:
2
g
Monounsaturated fatty acids:
13
g
Trans fatty acids:
1
g
Cholesterol:
89
mg
(30%)
Similar recipes to ragu bianco pasta
Our pasta book recommendation
Don't you have all the ingredients at home?

brings them directly to your home!
Huge selection from over 300,000 items, including fresh foods
Flexible delivery options: Order by 10 p.m. and receive delivery as early as 5 a.m. the next day.
One hundred products from over 25 favorite stores
Prime members can test AmazonFresh free of charge for 30 days