This post is also available in: Deutsch English Italiano
Crema pasticcera
Crema pasticcera is a delicious Italian sweet used in many traditional desserts and pastries. This delicious italian pastry cream is made with simple ingredients such as milk, sugar, eggs, and starch, and adds a creamy, custardy texture and delicious flavor to dishes.
It is also known as patisserie cream or Italian custard and is often used as a filling for pies, pastries and cannoli. The cream has a rich yellow color and a pleasant sweet flavor that blends beautifully with other ingredients.
The origins of crema pasticcera can be traced back to ancient Rome, where a similar cream called "patina" was popular. Over time, the recipe was refined and evolved into the delicious cream we know today. Crema pasticcera is an integral part of Italian cuisine and a symbol of traditional Italian desserts.
A delicious cream for many desserts
Ingredients list
500

ml

milk

4

egg yolks

90

g

sugar

30

g

cornstarch

8

g

vanilla sugar
Equipment
Directions
First take a large bowl and put in the egg yolks and sugar. Then beat with a hand mixer until smooth and creamy. Now add the cornstarch and continue mixing until there are no lumps.

4 egg yolks,

90 g sugar,

30 g cornstarch

Pour the milk into a saucepan and bring to the boil once over medium heat. Then remove from the heat. Now gradually add the hot milk to the egg yolk mixture. Stir constantly with a whisk.

Once all the milk is incorporated, pour the mixture back into the pot and heat over medium heat. Now add the vanilla sugar and let the cream simmer and thicken for about 7 minutes, stirring constantly.

As soon as the desired consistency is reached and the first bubbles appear, remove the pan from the heat and pour the cream into a bowl or jar to cool. Cover with plastic wrap and let cool completely at room temperature. Then place in the refrigerator for 2 hours.

The delicious cream can now be used for a variety of delicious Italian desserts.

Buon appetito!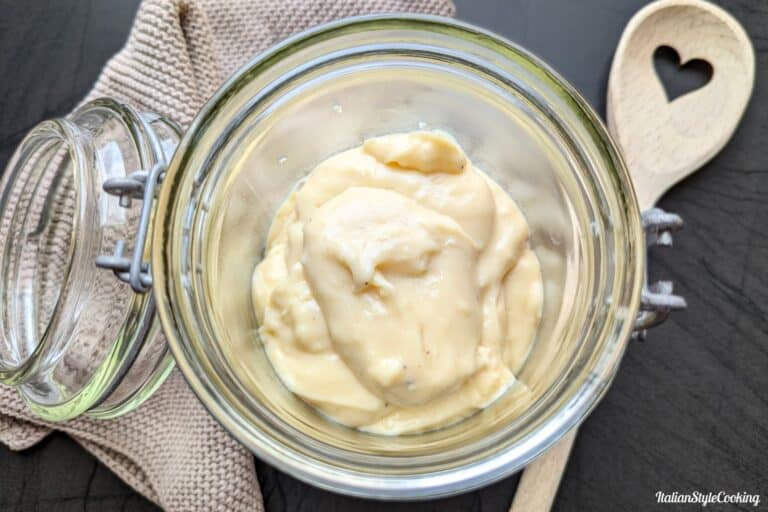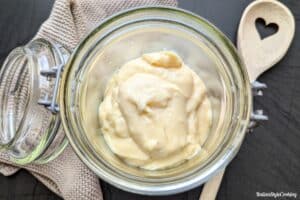 Serving:
125
g
Calories:
134
kcal
(7%)
Carbohydrates:
20
g
(7%)
Protein:
4
g
(8%)
Fat:
5
g
(8%)
Saturated fatty acids:
2
g
(10%)
Polyunsaturated fatty acids:
0.5
g
Monounsaturated fatty acids:
2
g
Cholesterol:
105
mg
(35%)
Frequently Asked Questions (FAQ)
Is it possible to prepare the cream in advance?
Yes, the cream can be prepared in advance. Just store it in an airtight container in the refrigerator and use it within 2-3 days.
Is it possible to freeze Crema?
Yes, Crema pasticcera can be frozen. To do this, put it in a suitable container or bag and freeze it. Before using, let the cream thaw in the refrigerator and stir it thoroughly to restore the consistency.
Is it possible to reduce the amount of sugar?
Yes, you can reduce the amount of sugar according to your personal taste. However, note that sugar also has a preservative function and the cream may not keep as long if you use less sugar.
Did you like the Italian pastry cream? Here are a few more delicious recipes for you…