Sprache | Language | Lingua: Deutsch English Italiano
This page uses
affiliate links
marked with a icon.
As an Amazon Associate, we earn from qualifying purchases.
Fagottini di asparagi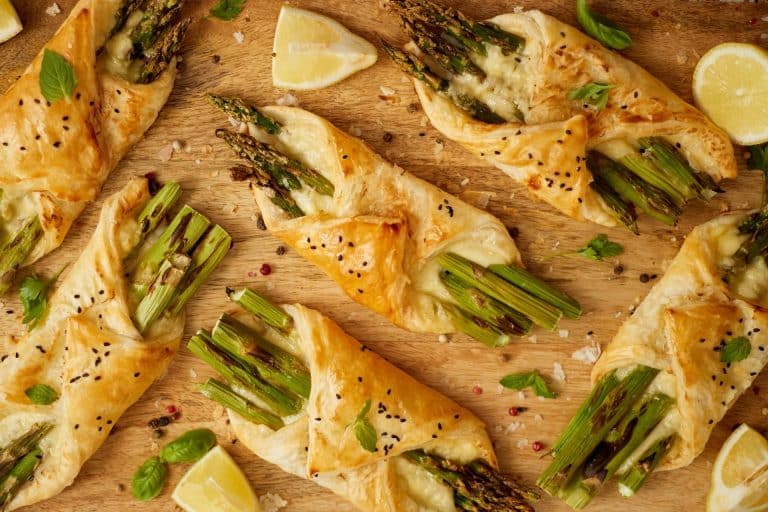 A delicious appetizer for spring!
Equipment
Directions
Wash the asparagus thoroughly under running water, cut off the woody part of the stalk and peel the lower third. Peel the garlic and finely slice the fresh chili.

Heat a dash of olive oil in a large skillet over medium heat and briefly sauté the whole clove of garlic and the chili slices. Then add the asparagus and sauté for a few minutes.

Then remove the garlic and turn off the heat. Now add a little lemon zest and season with salt and pepper. Mix everything well and leave to cool.

Meanwhile, place the egg yolks and cream in a small bowl and whisk thoroughly.

Roll out the puff pastry and cut into four rectangles of equal size. Then turn each piece of puff pastry toward you so that it forms a diamond. Place five pieces of asparagus, tips up, in the center of each diamond and spread a handful of grated mozzarella on top of the asparagus spears.

Now brush the open spaces on the left and right sides of the puff pastry with some of the egg-cream mixture. Then fold the right side over the asparagus towards the center. Then fold the left side of the pastry over it as well and press down lightly, creating a bundle so that the asparagus fits snugly.

Now transfer the asparagus bundles to a baking sheet lined with parchment paper, brush the surfaces with the egg-cream mixture, and sprinkle with poppy seeds if desired.

Finally, bake in a preheated oven at 220°C top/bottom heat for about 10 minutes. Then serve and enjoy hot.

Buon appetito!
Calories:
438
kcal
(22%)
Carbohydrates:
28
g
(9%)
Protein:
11
g
(22%)
Fat:
31
g
(48%)
Saturated fatty acids:
11
g
(55%)
Cholesterol:
77
mg
(26%)
I hope you enjoyed the asparagus puff pastry! Here are some more delicious recipes for you…
Looking for original Italian ingredients for the asparagus puff pastry?
ItalianStyleCooking Shopping Tip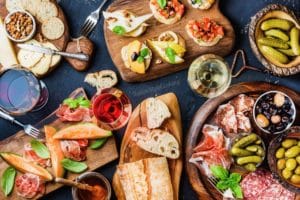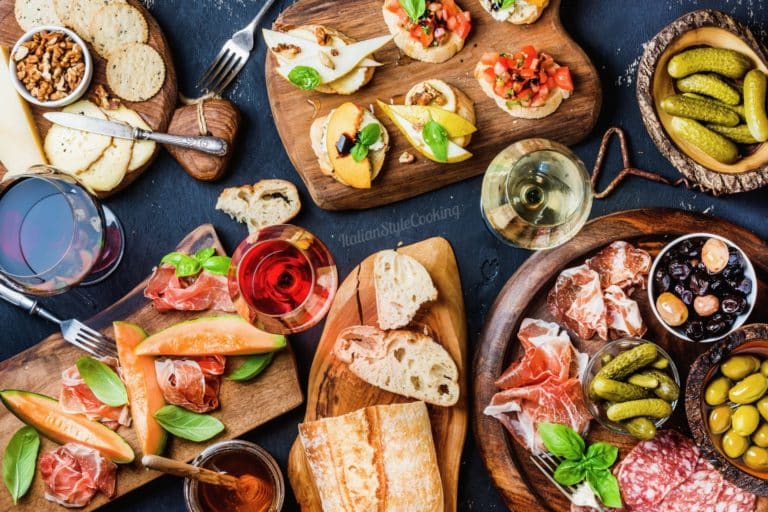 If you are a big fan of Italy and are looking for original Italian goods, Made in Italy from Amazon is the right place for you. Browse to your heart's content for food, furniture and home accessories, clothing and cosmetics products made by Italian craftsmen and manufacturers. In each product you will find the peculiarities of Italian production.