This post is also available in: English Deutsch Italiano
Ravioli con ricotta e spinaci
What could be better than fresh homemade stuffed pasta? Preparing it by hand is a wonderfully relaxing pastime, which will additionally treat us to a delicious delicacy later at the dinner table. This ravioli is prepared with spinach and ricotta, one of the most classic fillings for pasta. The harmony of the two main ingredients unfolds a wonderful freshness in the palate and makes our mouths water just by looking at it. The spinach ricotta ravioli are all around a perfect time for the beautifully set Sunday table with friends and family.
Delicious stuffed pasta with spinach and ricotta!
Directions
First, put the flour, as well as the eggs and the egg yolk in the mixing bowl of a stand mixer and let it knead for about 7 minutes. If the dough is not elastic enough, you can add a little warm water. If it is too sticky, add a little flour.

250 g pastry flour,

2 eggs,

1 egg yolk

Then continue to knead the dough thoroughly with your hands, then form it into a ball and return it to the bowl. Cover with a cloth and let rest for 30 minutes.

Meanwhile, wash the spinach thoroughly and shake dry. Heat a pan with a dash of olive oil and let the spinach collapse, stirring constantly. Then put it in a colander and drain.

Place the ricotta and grated parmesan in a large bowl and season with a pinch of nutmeg, salt and pepper. Then mix thoroughly.

50 g parmesan cheese,

125 g ricotta cheese,

salt,

pepper,

nutmeg

Now put the spinach into the container of the hand blender and puree finely. Then add the puree to the ricotta mixture and mix well. Finally, fill the mixture into a piping bag.

After resting, roll out the dough thinly on a surface floured with durum wheat semolina. Then cut into oblong strips. Make sure that the dough strips are slightly wider than the ravioli cutter used.

Now always put a heap of the filling with enough distance to each other in the middle of the strips. Then place another strip exactly on top. Now press the cutter down firmly on each ravioli to cut off the dough and seal the filling inside. Then transfer to a baking sheet floured with semolina. Repeat this process for the remaining ravioli.

Now cook the ricotta spinach ravioli for about 3 minutes in boiling salted water. Then transfer to deep plates, drizzle with a little olive oil and sprinkle with freshly grated parmesan if desired.

Buon appetito!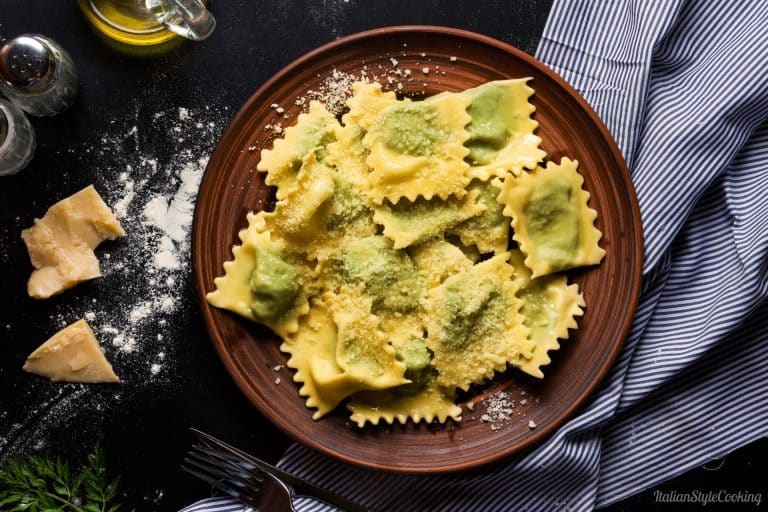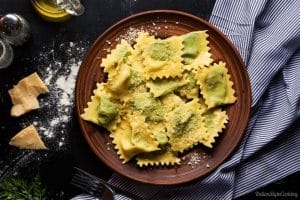 Calories:
66
kcal
(3%)
Carbohydrates:
9
g
(3%)
Protein:
3
g
(6%)
Fat:
2
g
(3%)
Saturated fatty acids:
1
g
(5%)
Trans fatty acids:
1
g
Cholesterol:
26
mg
(9%)
Did you like the spinach ricotta ravioli? Here are some more nice dishes for you…
Looking for Italian ingredients for your spinach ricotta ravioli?
ItalianStyleCooking Shopping Tip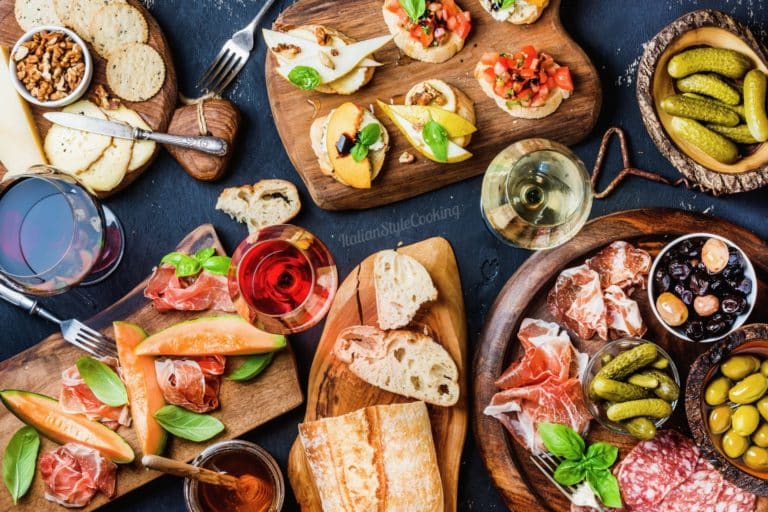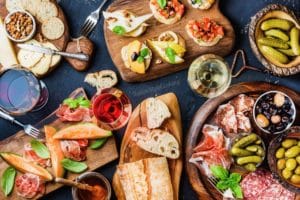 If you're a big fan of Italy and are looking for original Italian goods, Made in Italy from Amazon is the place to be. Browse to your heart's content for food, furniture and home accessories, clothing and cosmetics made by Italian artisans and manufacturers. In each product you can recognize the peculiarities of Italian production.