This post is also available in: Deutsch English Italiano
Spaghetti al tonno
Tuna pasta is a delicious Italian pasta with tasty fish in a fruity tomato sauce. The base of the dish is spaghetti, long pasta prepared with a simple sauce of tomatoes, tuna, onions and garlic. Often the dish is enhanced with capers or black olives to round out the flavor. The use of fresh ingredients and spices such as parsley, basil and oregano give the pasta its characteristic flavor. Spaghetti with tuna is a simple yet delicious dish that can be prepared quickly and is perfect for any occasion.
Lightning fast and incredibly delicious!
Equipment
Directions
First, bring a pot of well-salted water to a boil.

Drain the tuna in oil. Peel the onion and garlic and cut into thin slices. Heat some olive oil in a frying pan and add the garlic and onion. Sauté over low heat for a few minutes, stirring frequently.

Add the tuna to the frying pan. Let it brown for a few minutes, stirring constantly. Now mash the peeled tomatoes with a fork and pour into the frying pan. Mix well and let everything simmer for about 5 minutes. Add chopped basil and oregano to taste and continue to simmer.

In the meantime, put the spaghetti in the pot with the boiling water and cook until al dente. Then drain it and put it directly into the frying pan with the tuna-tomato sauce. Season with pepper and salt and mix everything nicely.

Finally, arrange on deep plates, garnish with fresh parsley and serve hot.

Buon appetito!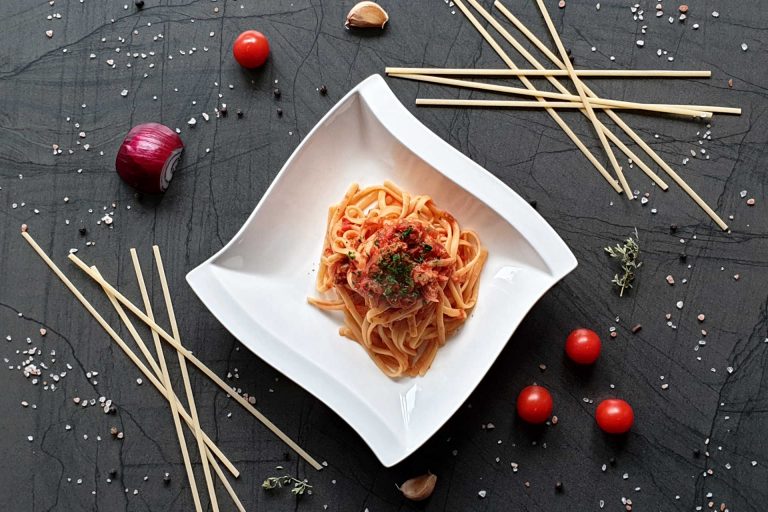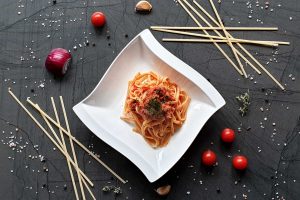 Calories:
474
kcal
(24%)
Carbohydrates:
81
g
(27%)
Protein:
25
g
(50%)
Fat:
5
g
(8%)
Saturated fatty acids:
1
g
(5%)
Cholesterol:
7
mg
(2%)
If you like tuna pasta, you may also like these recipes…
Our pasta book recommendation