Sprache | Language | Lingua: Deutsch English Italiano
This page uses
affiliate links
marked with a icon.
As an Amazon Associate, we earn from qualifying purchases.
Gnocchi di carote
Are you ready for a dish that not only tastes delicious, but also delights with its bright orange color and wonderful aroma? Our carrot gnocchi in sage butter is a real treat for the senses and a unique twist on the classic gnocchi recipe.
These carrot gnocchi are made from fresh carrots, which not only bring a beautiful color, but also a slightly sweet flavor. When they are then fried in the delicious sage butter, a harmonious play of flavors and textures is created.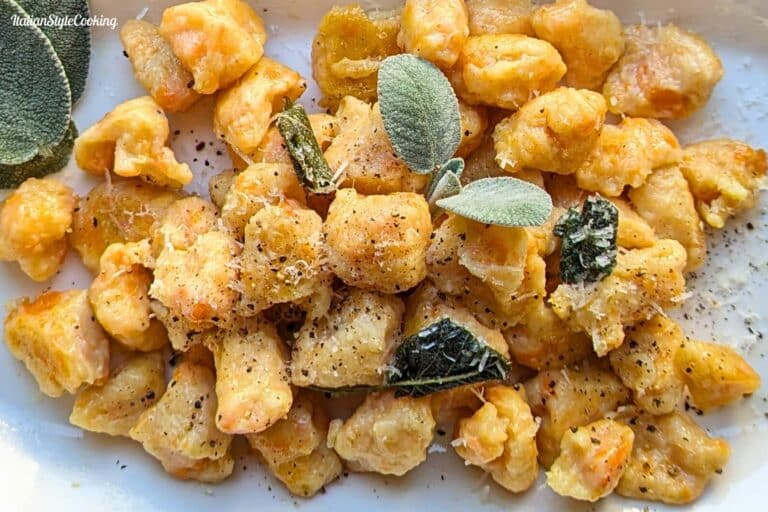 Delicious little gnocchi from potatoes and carrots
Ingredients list
Gnocchi
Sage butter
100

g

butter

20

leaves

sage
Directions
First, fill a large pot with plenty of cold water and put the potatoes in it. Then bring to a boil on high heat and simmer for about 30-40 minutes, depending on the size of the potatoes. To check if the potatoes are soft enough, simply pierce them with a knife. If the knife slides easily to the middle of the potatoes, they are ready.

In the meantime, prepare the carrots. Peel them first and then cut them into thin slices. Bring a pot of water to a boil and blanch the carrots in it for 10 minutes. Then drain and set aside.

Now also drain the finished potatoes, let cool and peel. Then press the potatoes and carrots into a large bowl with the help of a potato ricer.

Season with salt, a pinch of pepper and nutmeg and mix briefly with your hands.

3 g salt,

1 pinch pepper,

1 pinch nutmeg

Crack the egg into a small bowl and whisk. Then add to the potato-carrot mixture.

Now add the flour little by little and knead the mixture thoroughly with your hands until it forms a smooth dough. Then form into a ball, cover with a tea towel and let rest for 10 minutes at room temperature.

After the resting period, take a part of the dough and roll it out with your fingertips on a lightly floured work surface until the thickness reaches about 2cm / ½in. Then cut the dough roll into pieces, again about 2cm / ½in long.

If you want to have the gnocchi with the typical groove shape, proceed as follows: Pull the gnocchi pieces with light pressure over the gnocchi board. Instead of the gnocchi board, a fork can also be used.

Then place each finished gnocchi on a floured cloth.

Now bring a large pot with plenty of salted water to a boil. Put in the gnocchi, reduce the heat and let them simmer.

Meanwhile, heat the butter in a large frying pan and add the sage leaves.

100 g butter,

20 leaves sage

As soon as the gnocchi rise to the surface, skim them off with a slotted spoon, add them directly to the hot butter in the pan and mix everything well. Finally, divide among deep plates, sprinkle with freshly grated parmesan if desired and serve immediately hot.

Buon appetito!
Calories:
410
kcal
(21%)
Carbohydrates:
46
g
(15%)
Protein:
7
g
(14%)
Fat:
22
g
(34%)
Saturated fatty acids:
13
g
(65%)
Polyunsaturated fatty acids:
1
g
Monounsaturated fatty acids:
6
g
Trans fatty acids:
1
g
Cholesterol:
95
mg
(32%)
Similar recipes like carrot gnocchi
ItalianStyleCooking Shopping Tip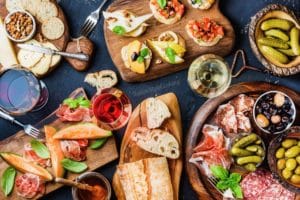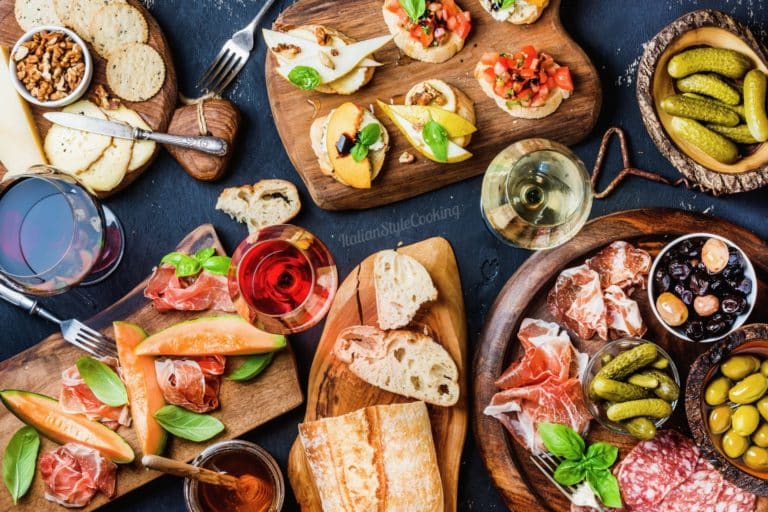 If you are a big fan of Italy and are looking for original Italian goods, Made in Italy from Amazon is the right place for you. Browse to your heart's content for food, furniture and home accessories, clothing and cosmetics products made by Italian craftsmen and manufacturers. In each product you will find the peculiarities of Italian production.